Arctic Paper Munkedals is one of Europe's leading manufacturers of uncoated premium paper, with significant exports to many corners of the globe – and one of the world's most environmentally friendly paper mills.

The mill is situated in the village of Munkedal, about 100 km north of Göteborg and is one of the most beautifully-situated paper mills in the world. The site was chosen with care - but we were not the first. That was the monks, who later gave their name to the estate, the paper mill, the village, the district and, finally, our brand. Where the Munkedal and Örekil Rivers meet, the monks used to fish for salmon for the monastery at Bokenäset, alongside the beach at Gullmarn fjord.

That was eight hundred years ago, but the Örekil River is still considered to be one of the country's finest salmon rivers, with many keen anglers visiting every year. Inspired by the surrounding nature, Munkedals is today one of the topmost suppliers of premium quality, environmentally friendly design papers, book papers and other high quality products based on renewable sources.


The brand Munken is one of the most renowned design paper brands and the preferred choice of many high demanding visionaries and their creative projects. Munken's broad product range caters to a wide variety of printing needs, in particular book printing, high-end advertising and marketing material, but also packaging products.
The Munken Design Range has repeatedly been recognized for bringing attention to paper as a creative medium. It has won several awards in leading design competitions. Today, the Munken range also includes high-quality paper for digital printing such as HP Indigo and high-speed inkjet printers.


In terms of production capacity and volume, Arctic Paper Munkedals is a medium-sized mill, with the advantages of short lead times, flexible production and close cooperation with our customers when it comes to product innovation. At the core of production is great awareness and care for the local environment. The mill is one of the most efficient in Europe in several aspects of resource economy, especially in terms of water usage. With its own hydropower plant, Arctic Paper Munkedals benefits from its closeness to nature and invites visitors to discover its extensive work with sustainability at the mill's Environmental Centre.
Reducing the use of energy and resources is an on-going process at the Munkedal mill. Since 2017, Arctic Paper Munkedals has made investments in energy saving programmes, which have contributed to making the use of energy more efficient. In 2019 the decision was made to expand the hydropower production and to invest in a new energy plant based on waste, to further strengthen the mill's ambitious sustainability goals.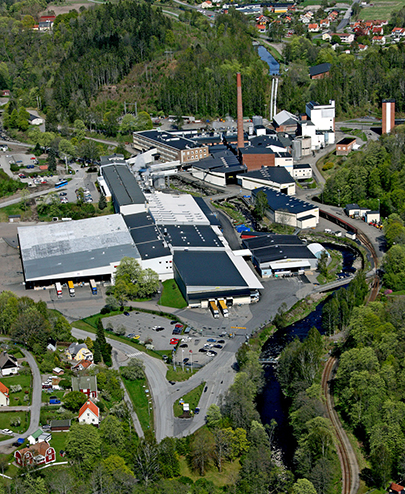 Quick facts
Arctic Paper Munkedals AB
Managing Director Kent Blom
335 employees
88 % of production is exported
Non-integrated paper mill
Produces premium uncoated graphical paper under the Munken and Amber brand
Production capacity approximately 160,000 tonnes/year
Two paper machines with a trim-width of 3.97 m and 3.25 m