Arctic Paper Kostrzyn
In the heart of Europe, producing uncoated high-white paper qualities with excellent personal service.
Servicing customers throughout Europe, Arctic Paper Kostrzyn is a modern mill with high sustainable ambitions that combines high quality uncoated, woodfree offset paper and graphical papers for modern printing and converting with an excellent service.


Video on YouTube: youtube.com/watch?v=qH-eaUJcDD8
Strategically located in the west of Poland, Arctic Paper Kostrzyn is perfectly positioned from a logistical point of view to reach all parts of Europe. The mill brings together Polish and Nordic culture and passion for paper craftsmanship, characterized by efficiency and a commitment to develop and improve.
Its beautiful location by the Warta River, downstream from a national park, explains the mill's strong commitment to minimize its impact on the surroundings and make efficient use of natural resources. During the last years, Arctic Paper Kostrzyn has made substantial investments in its heat recovery system, allowing for heat to be more efficiently reused in production and decreasing energy consumption in the mill.


Arctic Paper Kostrzyn is the largest producer of offset paper in Poland. To improve cost efficiency and stay successful, the mill is always striving to improve processes and products, but also to meet market demands for various paper qualities. Under the brand name Amber, Arctic Paper Kostrzyn produces uncoated woodfree paper for general printing use such as books, brochures and documents, but also modern papers for high-speed inkjet technologies.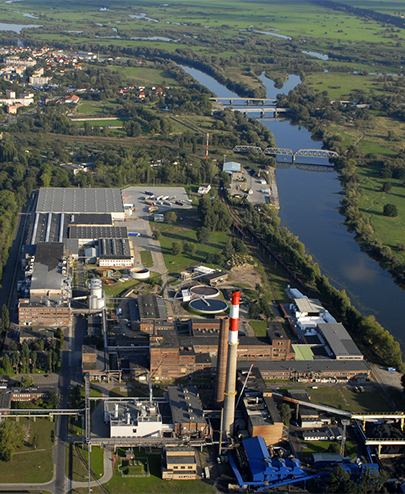 Quick facts
Arctic Paper Kostrzyn S.A.
Managing Director Michal Jarczyński
400 employees
70% of production is exported
Produces high-quality uncoated graphical paper under the Amber brand
Production capacity 315,000 tonnes/year
Two paper machines, both with a trim-width of 5.30 m

New technologies in Arctic Paper Kostrzyn S.A. cofinanced by the National Center for Research and Development
Contacts Arctic Paper Kostrzyn

Arctic Paper Kostrzyn S.A.
Ul. Fabryczna 1
PL-66-470 Kostrzyn n/O, Poland
management office +48 95 7210 550
+48 95 7210 600
info-kostrzyn@arcticpaper.com
Email